Chesapeake Stamped Concrete Driveway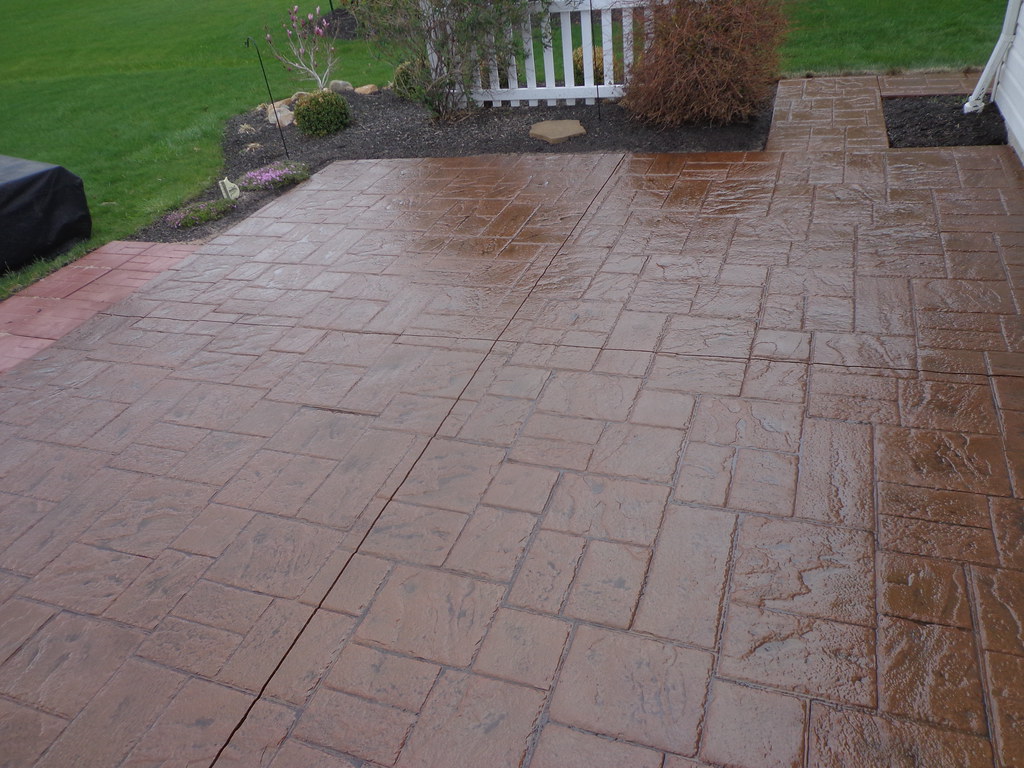 Stamped concrete defines the act of imprinting designs onto a poured concrete surface before the surface has cured. Concrete pavers can also be stamped, though this is normally done off-site.
Chesapeake Concrete Driveway Company has concrete stamping down to a science. We have a huge list of designs to choose from. On most occasions we can even create a pattern of your own. 
The most common design requests we get are: 
Ashlar stone 

Brick 

Cobblestone 

Flagstone 

Herringbone 
We also do a lot of work with geometric patterns, such as: 
Basket weave 

Circles 

Fan 

Pinwheel 

Running bond 
There are many benefits that come along with stamped concrete driveways. For starters, they are very beautiful and will add curb appeal to your home. Secondly, they are very low maintenance and easy to clean. Lastly, they are extremely durable and will last for many years to come. 
If you are interested in having a stamped concrete driveway installed at your home, please contact us today. We would be more than happy to provide you with a free estimate. We also offer other concrete driveway works including concrete driveway replacement, concrete driveway staining, concrete driveway resurfacing, colored concrete driveway, and many more. 
Give us a call at 757-908-3964 to get free estimates.
Stamped Concrete: A Great Impersonator
Our stamped concrete service can make your driveway look composed of other, more expensive material. So if you'd love to have something done in natural stone, but aren't too keen on the price tag, ask us about concrete stamping. Chances are we can give you the look you want, without the hefty fee.
This same goes for impersonating brick masonry or wood. Imagine a driveway that looks exactly like wood, but it's actually concrete. This is another service we're happy to provide.
Stamped Concrete Borders
In addition to the main part of the driveway, we also create borders. These borders act as a handsome frame for your project. Not only that, but they also help to keep grass and landscaping away from the concrete. This is important because it helps to prevent weeds and other plants from growing up through cracks in the driveway.
It's also important to note that these borders can be created using the same imprinting process that we use on the main part of the driveway. So if you have a certain look in mind, we can definitely make it happen.
Stamped Concrete Driveway Colors
There are many different colors to choose from when it comes to stamped concrete driveways. The most common color requests we get are: 
Natural gray 

Tan 

Brown 

Red 

Black 
Of course, these are just the most common requests. We can actually create any color you want. All you have to do is ask.
Stamped Concrete Driveway Cost
The cost of a stamped concrete driveway will vary depending on the size of the project and the complexity of the design. However, we can give you a general idea of what to expect.
On average, most people spend between $15 and $25 per square foot on stamped concrete driveways. So, for a typical driveway that is 20 feet wide and 40 feet long, you can expect to pay between $6,000 and $10,000.
Of course, the best way to get an accurate estimate for your project is to contact us for a free consultation. We would be more than happy to come out to your home and take a look at the job. From there, we can give you a more accurate estimate.
Stamped Concrete Maintenance
One of the great things about stamped concrete driveways is that they are very low maintenance. In fact, the only thing you really need to do is sweep them on a regular basis and hose them down as needed.
It's also important to seal your driveway every one to two years. This will help to protect the concrete from stains and other damage.
If you have any questions about stamped concrete driveways in Chesapeake or if you would like to schedule a free consultation, please contact us today. We look forward to hearing from you soon.
We're easy to reach at 757-908-3964.